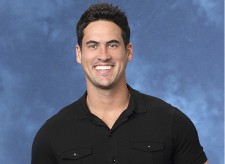 LOS ANGELES, April 3, 2018 (Newswire.com) - As The Bachelorette gears up for their 14th season with Becca Kufrin looking for the man of her dreams, we wanted to hear from some past participants of the hit show. Bachelors and bachelorettes from the past are either still looking for love or celebrating another year together, and maybe even with children in the mix. We had a chance to chat with Josh Allan Murray, who was the winner of the tenth season of The Bachelorette. After ending that engagement, he gave it another shot on Bachelor in Paradise. He left the show engaged, but a few months later that relationship ended. Two major breakups are hard, but Murray is bouncing back better than ever.
MillionaireMatch: What are you putting your energy into for 2018?
Josh: My focus is always on my family but on top of that, I am dedicated to expanding my F45 Training Gyms globally and helping as many people as possible better their health. I also am very involved in philanthropy, especially an organization called ESP (Extra Special People) in Athens, GA. I have hosted a couple of charity events this year with more to come. I have a passion for kids, especially those with disabilities and those less fortunate. I try to do all I can to help better their lives. A major goal of mine this year is to also be more active dating and finding that special someone I will spend the rest of my life with. I feel so fulfilled in life but I'm missing my partner in crime and I pray I find her this year.
MM: What has changed about you since your engagement to Andi?
Josh: I learned a ton from my experience with her. Most importantly for me, I've learned what I don't want in someone I want to spend the rest of my life with. I have become more cautious with who I date and to make sure I get to know them well before pursuing a relationship more seriously.
MM: Tell us three things you look for now before getting serious with someone.
Josh: First, I want to make sure they are genuinely a nice and kind person, not just putting on a front for the outside world to see. I want a woman who loves family and wants to have a family of their own. I have been with someone in the past who is extremely disrespectful to their parents and I will never be with someone like that again. It's a major turnoff for me. Also, in this world of social media addiction, I want someone who focuses on what's real and what's in front of her, not worrying about getting on Instagram and Twitter every 10 seconds of the day. If someone is constantly on their phone, I'm out.
MM: What do you do for personal development and improvement?
Josh: I enjoy reading - "Jesus Calling" and "The Purpose Driven Life" are daily readings of mine that help a ton. I also enjoy reading about other things I'm interested in and/or working on with business and my other entrepreneurial ventures.
MM: Is there something that people would be surprised to know about you?
Josh: I'm a homebody and I don't like pizza as much as they made it seem on television - remember people, tv is highly edited, don't believe everything you see.
MM: What has been your biggest relationship mistake?
Josh: My biggest relationship mistake was getting engaged on television without getting to know that person off camera and seeing how they truly are in real life. I wanted to find love so bad that I made decisions I shouldn't have and most definitely wouldn't have in the real world. Rushing into an engagement just to please everyone else is a big mistake - live and learn though.
MM: Do you plan to be back on television?
Josh: I don't plan on going back on television. Although, I never planned on going back after The Bachelorette or Famously Single or BIP or Champs vs. Stars. But at those times in my life when they reached out to me, I made decisions to go on those shows for multiple reasons - one was to learn more about myself and how to date again - the other was to take a shot at finding love one last time - and the other was to compete for a huge prize for my charity of choice.
MM: How do you stay inspired when it comes to finding true love?
Josh: I know in my heart there is a missing piece I want so badly - a wife, kids, a family! I try to stay faithful that God will introduce me to her when the time is right and I need to continue just doing good and being myself and she will come. It's not easy to be patient though, I'm more than ready!
We look forward to what cupid may bring Murray in the future. Until then, we can both keep up with him on social media @joshallanmurray.
To know more about MillionaireMatch, please visit https://www.millionairematch.com.
To download the app, please go to:
https://itunes.apple.com/us/app/id967177414?mt=8
https://play.google.com/store/apps/details?id=com.millionairedating.millionairematch&hl=en
Source: MillionaireMatch
Share: