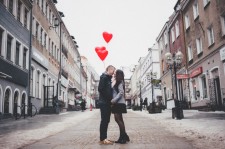 January is the hottest month for online dating; follow these tips for successful dating in 2018.
LOS ANGELES, January 30, 2018 (Newswire.com) - Millions are putting away their Christmas decorations, planning their New Year Resolutions and back at work full swing. According to MillionaireMatch.com, it has seen more than 10.15% percent surge in January 2018 compared to December 2017.
Why is January is the best time to date online? What are some tips to start off the New Year with dating as the number one priority? Have no fear, MillionaireMatch.com Dating Guru and CEO Jason D. has your back this festive dating season.
The Coldest Month is Hot, Hot, Hot For Online Dating: According to MillionaireMatch.com data, the website/mobile app has seen 16.62% increasing profiles from December in 2015 to January in 2016, and 29.39% from December in 2016 to January in 2017.
First Two Weeks of January Was Booming: MillionaireMatch.com saw an increase of 21.51% of memberships/new visitors compared to the same time frame in 2017.
Mobile is the New Dating Accessory: MillionaireMatch.com saw a decreased of 21.17% via computers/laptops while the new visitors from mobile and app increased 63.94%.
Females Dominate Signing Up for Service: MillionaireMatch.com found more females than males signing up for service the first two weeks of January 2018.
Males Spend More Time Searching: MillionaireMatch.com found that males dominate searching profiles more aggressively than females in the first two weeks of January 2018.
Online Dating is Seeing Record Numbers: Online dating is much more popular than anytime before. Members of MillionaireMatch increase 40% from 2016 to 2017.
New Year Resolutions Are In Full Swing; New Year, New Dating: January is the start of the year and people are making their New Year's Resolution to find the right one to go on a date or pursue a relationship with as one of their top priorities.
Cupid is Coming Quickly: Valentine's Day is fastly approaching, and everyone loves a good Valentine's date.
Finding a Date is Not Something to Rush: When you finally get to meet someone you like, it is important that you do not rush things. Make your first date light and get to know each other, your interests and shared passions.
Baby, It's Cold Outside--Take That Exotic Vacation Soon: The best thing about being rich and single during the cold winter months is that you can throw caution to the wind and head out to an exotic location at anytime. You can go to an exotic beach or for a short cruise with friends exploring secret places of interest. You will not only get a shot at finding love but start the year with an incredible tan.
Turn That Cold Wintery Day into a Fun, Social Day: Take matters into your hands by bringing your single friends together for an unforgettable winter's day fiesta. Make staying in on a cold day fun and social with food, board games, and alcohol. Also, suggest that your single friends bring other single guests. When single, the more the merrier to choose from. Also, with a potential date, you can go skiing, ice skating, make a snowman etc. as fun winter dates.
Go Online; Be Creative and Put in Effort: Specialized services like MillionaireMatch allow you to meet similar rich and single people who are looking for dating opportunities and serious long-term relationships. When you turn online for help, be sure to put effort into it. Invest time into creating your profile and projecting yourself.
Happy Searching in 2018!
More About MillionaireMatch.com: The longest online dating service that allows you to recline and search through a perfect niche of similarly successful people this holiday season as you seek to share this blissful season with someone you care about. Your bank account and status should not weigh you down; instead, it should give you an edge even in matters of the heart and allow you to secure millionaire dating opportunities and serious long-term relationships.
To know more details, please go to https://www.millionairematch.com.
To download the app, visit:
https://itunes.apple.com/us/app/millionaire-dating/id967177414?mt=8
https://play.google.com/store/apps/details?id=com.millionairedating.millionairematch
Source: https://www.millionairematch.com
Share: