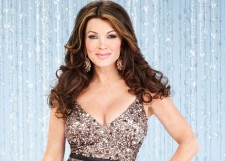 LOS ANGELES, July 25, 2018 (Newswire.com) - Lisa Vanderpump may be known for her scene-stealing appearance on Real Housewives of Beverly Hills, but she is best known as a businesswoman. Having created several successful businesses, Vanderpump obviously has her own playbook. Her latest endeavors include Vanderpump Rosé and Tom Tom, a new bar in West Hollywood. MillionaireMatch got the scoop on what you should be sipping this summer.
Vanderpump is no stranger to the food and beverage business. She's been working in the industry for over 30 years along with her husband Ken Todd. Vanderpump has opened three eateries located in Southern California, SUR, PUMP Restaurant and Lounge and Villa Blanca. Prior to her recent rosé launch, Vanderpump created Vanderpump Vodka and LVP Sangria which is distributed in retail stores both domestically and internationally. In addition, Vanderpump created a tabletop collection called Vanderpump Estate Jewelry Collection as well as a pet accessories line called Vanderpump Pets. "I've always been passionate about jewelry, and being on television you need statement pieces that read well on camera," said Vanderpump. "I became obsessed with fashionable jewelry rather than real pieces and built up this huge collection," she added. The collection sold out immediately when it launched on Evine, a television shopping channel.
Taking over the hospitality business did not stop her from two of the most important things in her life, her son and daughter. "Don't give them money," she said on how to raise kids when the parent is wealthy. "They have to work and then they will be rewarded. If you spoil them, they end up spoiled," she said. Her daughter Pandora was a waitress in one of the restaurants, and now is a partner on Vanderpump Rosé. Her son Max also worked in the restaurant.
Vanderpump has recently added her 4th restaurant and bar in Los Angeles, TomTom. This is a collaboration with two casts members of Vanderpump's reality show Vanderpump Rules, Tom Schwartz and Tom Sandoval. Designed by Nick Alain, the bar is located in West Hollywood in the heart of action. "It's something that is so unusual," Vanderpump said. She credits Alain with adding his extraordinary touch of design to make this restaurant a one of a kind.
It seems this businesswoman will be juggling a lot. The new restaurant makes her 35th restaurant in the world. As executive producer, she's still managing Vanderpump Rules as they enter into season 7 while Real Housewives of Beverly Hills has had 9 successful seasons. Vanderpump deciding to display her life on the show wasn't an easy choice, but one that perfectly supported her business moves. "As long as I can leave with the same integrity I came into this with and as long as you show an accurate portrayal of me then I am happy," she recalled when she did test shoot.
Vanderpump continues to be a fascinated woman to watch with witty words on screen. When she's not being followed by cameras, Vanderpump is being an advocate for the gay community and is a spokesperson for GLAAD. In addition, she is passionate about ending the cruelty and slaughter of dogs. We can't imagine what could be next on her plate.
To know more about MillionaireMatch, please visit
https://www.millionairematch.com
To download the app on GooglePlay, please go to
https://play.google.com/store/apps/details?id=com.millionairedating.millionairematch&hl=en
Source: MillionaireMatch
Share: