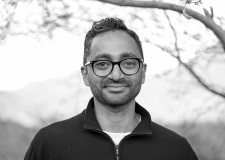 SACRAMENTO, Calif., February 12, 2018 (Newswire.com) - No one would argue that social media has changed how we operate in this world. From genius marketing plans to instant news updates, it has some positives. Chamath Palihapitya, formerly of AOL and Facebook, caught heat for speaking against society's obsession with social sites. Palihapitya is now the CEO of Social Capital, an investment firm that connects philanthropists and technologists in an effort to advance humanity. MillionaireMatch got the scoop on what Palihapitya really meant when he slammed social media and how he is bettering the world.
Like many successful entrepreneurs, Palihapitya grew up poor. He and his family immigrated to Canada from Sri Lanka when he was just six years old. His dad, having held several survival jobs, suffered emotionally from the financial pressure of supporting his wife and two children. "My parents craved money," Palihapitya said, speaking about the long periods of unemployment his dad experienced which later led him to drinking. Palihapitya went on to earn a degree in engineering from the University of Waterloo, then took a job as a derivatives trader at a bank where he made a lot of money. It solved some of his problems, but only temporarily. "I had to leave that job because I felt like I was going to get trapped by money. I was poor and I needed the job. I needed the money," he explained. He wanted to be free to find his own path. So, he moved to Silicon Valley.
Palihapitya soon began working at Facebook. At the time, the now popular site was only one year old. His job was to grow the user base. The method was simple. "A lot of our success at Facebook was the diligence of working every day. Going back to the process, the practice and not the outcome," he said. But how did Facebook grow to a billion users? "We realized that we needed to get every individual to seven friends in 10 days," said Palihapitya. As the world can see, they were pretty successful at making that simple goal.
In 2011, Palihapitya left Facebook to start Social Capital. His focus switched to launching cause-related businesses like Glooko, a mobile app for diabetes patients and their doctors. The disease has touched many of his family members and some severely, including amputations. His father battled the disease and later died of it. Though Glooko almost went out of business, today it serves one million patients. So his statements about social media should not have caused the stir that it did. "We have created tools where we are ripping apart the social fabric of how society works. That is truly where we are. I would encourage all of you as the future leaders of the world to really internalize how important this is. If you feed the beast, that beast will destroy you," he said during an interview at Stanford. "We are at a point in time where people need a hard break from some of these tools," he continued. As a result, he does not allow his children on social media and they have limited time watching movies. He believes in truly connecting with them and letting them play outside like children used to do.
His advice to entrepreneurs looking to change the trajectory of their life if it started out similar to his: "Be good copiers. Be around high-functioning, high-quality people and observe what they do."
To know more about Social Capital, be sure to check out www.socialcapital.com.
About MillionaireMatch
MillionaireMatch.com is a premium internet dating site designed for successful and attractive singles. The largest dating platform of its kind, those looking for love on the site can swipe for profiles that have had their income verified while their privacy remains a top priority.
Check out MillionaireMatch at https://www.millionairematch.com/.
To download the app, please visit:
https://itunes.apple.com/us/app/id967177414?mt=8
https://play.google.com/store/apps/details?id=com.millionairedating.millionairematch
Source: MillionaireMatch
Share: