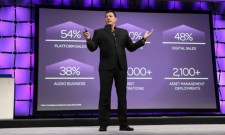 LOS ANGELES, February 19, 2018 (Newswire.com) - Any one who works in media or music most likely has used Avid, a creation tool for broadcast and music professionals. It is a long standing company founded by Bill Warner in 1987. Technology has changed a lot since then and so has Avid. In 2013, Louis Hernandez Jr. brought his passion for technology to the company and took his seat as a board member and Chief Executive Officer. His life has been filled with success after success, and MillionaireMatch got the scoop for you.
Hernandez grew up in Claremont, CA. Hernandez became interested in computers, and would soak up learning about software and programming at any chance he could get. After graduating from San Diego State University with an MBA in Business Administration, Hernandez took a job at Price Waterhouse Cooper as a CPA.
Success came to him shortly after, selling his first company at 29 years old and his second at 33. "I was in an environment where I was free to dream," Hernandez said about his early years. He gives his mom the credit for his success in life. Though his parents were immigrants with limited education, his mom earned her Ph.d. with hard work and dedication. His dad was in the Navy.
Hernandez went from creating banking software to Avid, which he says is similar. "I try to connect humans through technology," he said. For Hernandez, banking with the use of technology and digital storytelling connects communities. Leaning more into his role at Avid, telling untold stories became another passion. So, he picked up photography. "People think I am an artist or something, but I really just needed a way to capture these stories. I had no knowledge of photography. I had a couple of friends to teach me on the first two shoots," Hernandez said. Now, every time he travels for long trips he brings his camera for a quick shoot.
It doesn't just stop there. His mom also had a big heart for pouring into commnities that needed it. Hernandez created A Little Hope Foundation, which advocates for children's healthcare, education and emotional health.
Life continues to go up for Hernandez, and he says there is no magic pill for success. "There is no secret. You have to work very hard. You have to be very committed, and sacrifice a lot. If you care about the thing you're doing, you will probably be successful," he said. "Be authentic about what you do. Be a student of the thing you care about it," he said.
We can't wait to see how Avid continues to create opportunities for artists and media companies. Having someone who cares about their core audience is a big key to their continued growth. "Artists are the big losers. Content creators are the big losers," Hernandez stated. He believes soon we will see big mergers between smaller companies with great content and companies who have large distribution. "It's fantastic time to be in media," Hernandez said. We couldn't agree with him more.
To get more information on Avid, check them out at www.avid.com.
To know more about MillionaireMatch, please go to https://www.millionairematch.com.
To download the app, visit
https://itunes.apple.com/us/app/id967177414?mt=8
https://play.google.com/store/apps/details?id=com.millionairedating.millionairematch&hl=en
Source: MillionaireMatch
Share: