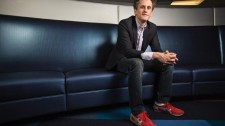 LOS ANGELES, February 26, 2018 (Newswire.com) - Sitting in a dorm room at the University of Southern California, Aaron Levie began to sketch out his plan to create Box. Levie wanted to create a product that would allow people to share files. Now a publicly traded company, Box has over 8 million users and competes with Dropbox and Google Drive. MillionaireMatch found out how this CEO created success by starting with the basics.
"We didn't know what kind of company we wanted to be," Levie said. Box started off by being a consumer based product, before taking a pivot into enterprise. Levie knew he wanted to solve the problem of sharing content and files securely, so he created the cloud-based sharing service. A subscription would cost just $2.99 a month for individuals, but after getting their first enterprise customer to invest $45 a month he knew he had a business model that would work with a potentially higher profit.
Levie struck beginner's luck by obtaining early investment by Shark Tank's Mark Cuban. This early investment allowed Levie and his co-founders to drop out of school and put their full attention on building the business. The decision to focus on enterprise accounts lead him to also concentrate on an effective sales team. "You need someone very early on who can play the role of product manager, marketing person, sales person to go figure out what you are actually selling and building. If you are just product focus, you don't always think about specific needs and the ways of positioning yourself for customers," he explained. They did a lot of market research during that time asking potential customers about their specific needs. Levie also recommends reading "The Enterprise Sales Learning Curve".
With big companies like Google creating a similar product at the time, scaling could have been a challenged. Instead, Levie began to push through with growing Box. "You have to get really good a micromanagement at scale," he said. He fully believes that you just have to be incredibly annoying. Well, that paid off because he gained the interest of Citrix who offered to acquire the company for $600 million. He admits it was an agonizing process to come to a decision. Ultimately, the answer was no. It was a scary decision, but a good. At age 29, Levie went public with the company with a valuation of $1.7 billion.
"We built something that was ten times more simple than the incumbent technologies in the space," he said. "If I had actually known what I know now, out initial product would have been ten times more complex than what we started with. It would not have been disruptive. We would have had features and buttons everywhere," said Levie. A great reminder for entrepreneurs who include too many features in the initial launch when simplicity is best.
On hiring great talent, Levie shared what he looks for today. "We like working with people with high energy, positive, optimistic about the future, collaborative and want to be just as disruptive," he said. "Make mom proud," he said is the company code at the Box office. In the past, he has expressed his concern about immigration, especially during this presidential reign. "We, especially in Silicon Valley, benefit from talent coming from all around the world that want to build great things, work at companies and start companies," he expressed. "I want to make sure that that doesn't go away in any aspect," said Levie.
For more information, be sure to check out www.box.com.
To know more about MillionaireMatch, please go to https://www.millionairematch.com.
To download the app, visit:
https://itunes.apple.com/us/app/id967177414?mt=8
https://play.google.com/store/apps/details?id=com.millionairedating.millionairematch&hl=en
Source: MillionaireMatch
Share: